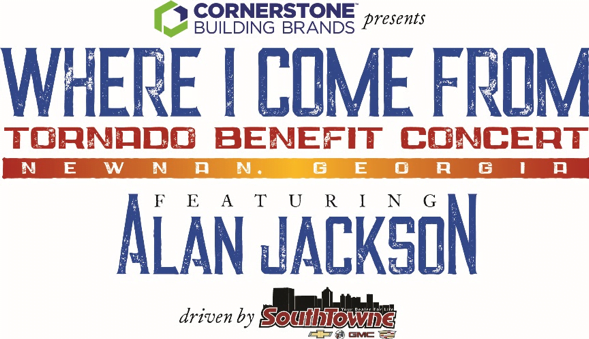 "Where I Come From" Tornado Benefit Concert
Featuring Alan Jackson
Acknowledges Local and Regional Supporters
Additional Support Supplements Event's Fundraising Efforts
(FOR IMMEDIATE RELEASE) A variety of regional and local businesses and individuals have stepped up to support this month's Where I Come From: Tornado Benefit Featuring Alan Jackson. The June 26 event finds the superstar bringing three decades of hits to his hometown, which was recently ravaged and is still recovering from a devastating spring tornado. The Country Music Hall of Fame member will be joined by multi-platinum entertainer Chris Young, singer-songwriter-producer Caylee Hammack, singer-songwriter Adam Wright and country artist Brian Wright, the latter two both – like Jackson – Newnan natives.
"We're incredibly grateful for the amazing generosity of not only Alan Jackson and the other performers but all of these great sponsors," said Kristin Webb, executive director of the Coweta Community Foundation. "Newnan still has so many needs following the tornado, and this concert is going to make a huge difference for a lot of people."
Cornerstone Building Brands is the presenting sponsor of Where I Come From: Tornado Benefit Featuring Alan Jackson. The event is driven by Southtowne Chevrolet. Cornerstone and Southtowne's substantial event support is being supplemented by these generous local and regional sponsors:
GOLD: DTH Expeditors Inc.
SILVER: Buffalo-Rock Pepsi, Coweta-Fayette EMC, The Chambers Family, Crossroads Church, Cancer Treatment Centers of America – Atlanta, 84 Lumber, LaGrange Grocery, Newnan Utilities, Penco Restoration, Piedmont Newnan Hospital, Dr. James Thomasson, Tito's, and Toyota of Newnan.
BRONZE: Amcon, Walter W. Arnall Law, Bartlett & Barnett CPAs, PC, Blue Alpha, Cargill, Corbitt's Collision, Davis Building & Integrated Science, Fairburn Pawn, J&M Pools, Josey Young & Brady Realty, The Joy of Real Estate – Joy Brown Barnes, Paramount Engineering, Thompson, Wallin, and Cunningham, LLC, Thompson's Pharmacy and Turin Pest Control.
COPPER: Friends of the Foundation – KBR Communications and Steve Boyd & Company, Inc., Barnett & Cheeves, Pam & Jimmy Beavers, Coweta County Administration, Congressman Drew Ferguson, Farmhouse Printing, Georgia Bone & Joint, Lindsey's Inc. Realtors, Stan & Ginger Queener and Steve & Nancy Mader, Metro Maintenance Solutions, Monster Tree Service, Morgan Jewelers, Raymond James – Tanner Low Financial Advisor, Southtowne Motors, Thomas Family, United Community Bank and Warrior Restoration.
Where I Come From: Tornado Benefit Featuring Alan Jackson takes place June 26 at Newnan's Coweta County Fairgrounds (275 Pine Rd., Newnan GA, 30263). Detailed information regarding the concert is also available at AlanJacksonBenefit.com. Though the concert sold out within hours of tickets going on sale on May 21, those wishing to support this benefit can still donate to the relief effort by going to cowetafoundation.org/concert.
A member of the Country Music Hall of Fame and an inductee to the Songwriters Hall of Fame, Alan Jackson's membership among music's all-time greats is part of a long line of career-defining accolades that include three CMA Entertainer of the Year honors, 30 years of membership in the Grand Ole Opry, a Billboard ranking as one of the Top 10 Country Artists of All-Time, induction to the Nashville Songwriters Hall of Fame, and the Heritage Award as the most-performed country songwriter-artist of ASCAP's first 100 years.
The man from rural Newnan, GA has sold nearly 60-million albums worldwide, ranks as one of the 10 best-selling male vocalists of all-time (rock, pop and country). He has released more than 60 singles – registering 50 Top Ten hits and 35 #1s (including 26 Billboard chart-toppers). He has earned more than 150 major music industry awards – including 19 Academy of Country Music Awards, 16 Country Music Association Awards, a pair of Grammys and ASCAP's Founders and Golden Note Awards.
Jackson – one of the most successful and respected singer-songwriters in music – just released his latest album, Where Have You Gone, May 14. The 21-track collection features 15 songs penned solely by the music icon. He's also the man behind one of Nashville's most-popular tourist stops, AJ's Good Time Bar, a four-story honky-tonk in the heart of downtown featuring daily live music and a rooftop view of Music City.
ABOUT CORNERSTONE BUILDING BRANDS:
Cornerstone Building Brands is the largest manufacturer of exterior building products for residential and low-rise non-residential buildings in North America. Headquartered in Cary, North Carolina, Cornerstone Building Brands serves residential and commercial customers across new construction and repair and remodel markets. As the #1 manufacturer of vinyl windows (Ply Gem, Simonton, American Craftsman), vinyl siding (Mastic™, Variform™, Ply Gem™), stone veneer (Environmental Stoneworks™, Ply Gem™) insulated metal panels (CENTRIA™, Metl-Span™), metal roofing (MBCI™, ABC™), metal wall systems (Star Building Systems™, Ceco Building Systems™, Metallic Building Systems™, Heritage Building Systems™, Robertson Building Systems™), and metal accessories (Metl-span™, Centria™, MBCI™, ABC™), Cornerstone Building Brands combines a comprehensive portfolio of products with an expansive national footprint that includes over 20,000 employees at manufacturing, distribution and office locations throughout North America. At Cornerstone Building Brands, corporate stewardship is a responsibility that is deeply embedded in our culture and we are committed to contributing positively to the communities where we live, work and play.
ABOUT SOUTHTOWNE CHEVROLET:
Southtowne Chevrolet is the #1 volume GM dealer in all of Georgia, providing residents of Newnan and surrounding cities the best deals in the state with the largest inventory and lowest prices in the Southeast. They're your dealer for life.
ABOUT COWETA COMMUNITY FOUNDATION:
Established in 1997, the Coweta Community Foundation, Inc. was established to maintain the charitable intent of donors and to act as a catalyst to help focus local philanthropy on the community's changing needs. Based in Newnan, GA, the Foundation manages funds that directly support a variety of community interests such as women's and children's issues, public safety, education, and the arts, enhancing and supporting the quality of life in Coweta County.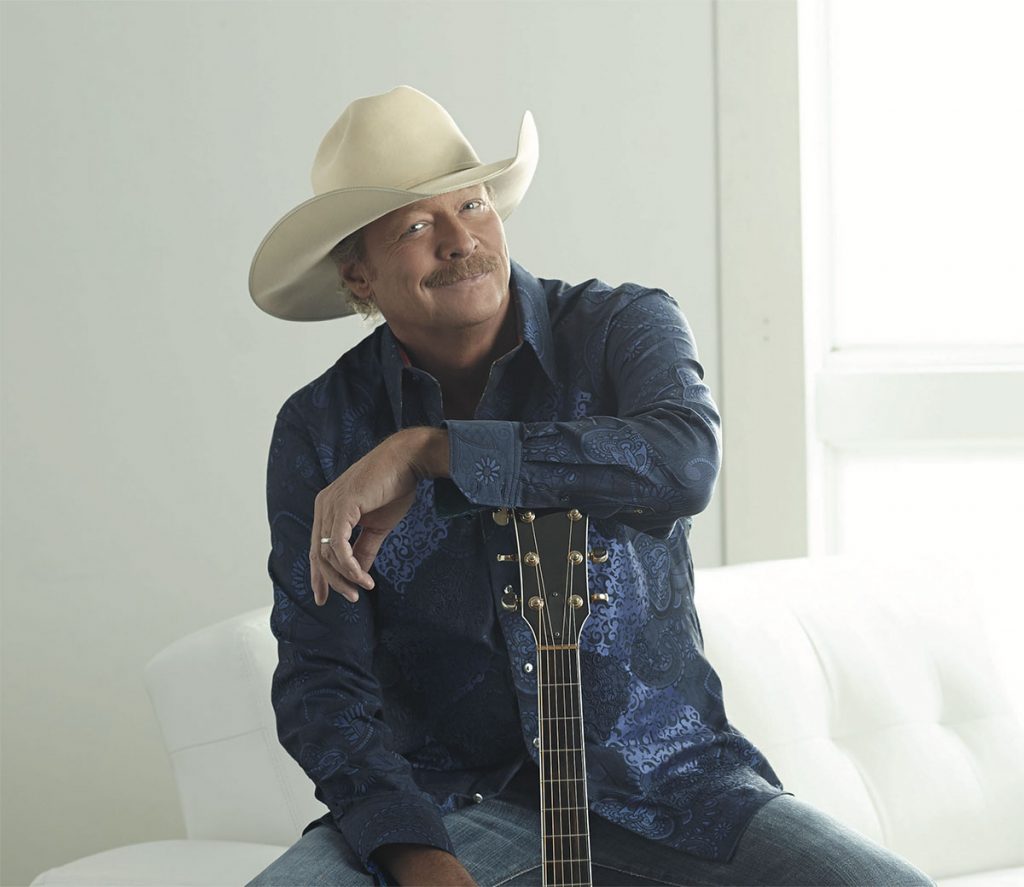 March 22, 2023
DTH Expeditors, Inc. is thrilled to welcome Drew Winslett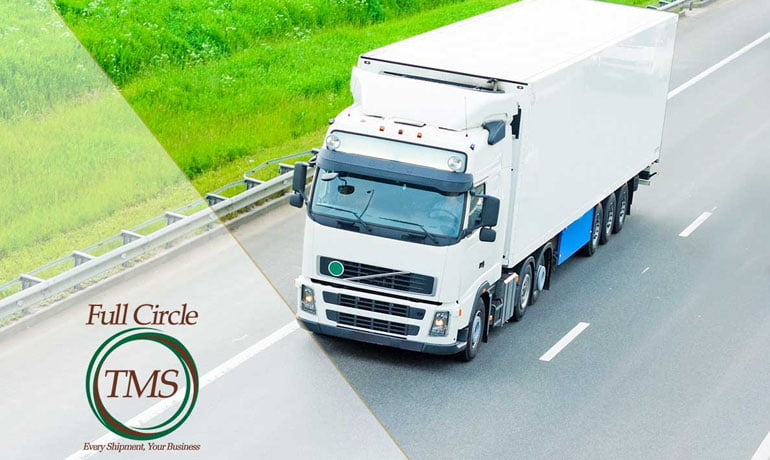 October 16, 2020
The SaferWatch integration with Full Circle TMS Enterprise level